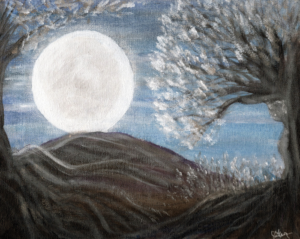 This full moon in Leo is all about choice. We are at a crossroads in time with the ability to create our own fate.
Leo energy gives us strength, reminds us of the fire in our bellies. We can call upon the element of fire, Goddess Brigid and the strength of Lion to be braver than ever – we can defy the expectations others have projected onto us and embrace our deep desires and live freely on our own terms. Do you feel brave? Do you need your roar to be heard?
This is a beautiful moment to really embrace our true feelings and nature. It's time we made heartfelt decisions that benefit ourselves as much as the needs of those we love.
Energy placed into new starts is rewarded today, especially career.
What to meditate upon today:
Sit in a quiet moment with Amethyst, Jasper or Rose Quartz if you have them.
What are my talents?
What brings me closer to my true path, and what is distracting me?
What can I do today to feel authentically me?
Which boundaries do I need to stand firm on?
What can I do to make me feel strong?
See what comes to you!
p.s. If you would like a full moon cleansing or energy treatment, healing, I have a couple of spaces left for tonight… 
Full moon blessings and more power to you…
Love
Rachel xx