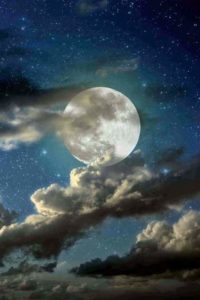 For those of you new to "moon stuff" – a super moon is when the moon is closest to Earth and can appear larger in the sky than usual. Energy wise, its pull on the tides – and on us in our water filled meat suits is even stronger than usual!
On Monday 9th March at 10:47 AM Pacific and 5:47 PM UK time we have a full super moon in Virgo …during the end of Mercury Retrograde. Buckle up, the Force is strong with this one!
Super moons are really emotionally charged, and this one is full of big divine feminine Goddess energy. Any full moon is the very peak of  lunar energy, and this particular full super moon has a very strong water element to it thanks to Neptune's influence, so this means it will be extra magical, mystical and emotionally super charged.
Have no fear of this power though… you'll be able to direct it and bring it into focused effort and thinking via practical clean-cut Virgo's influence.
Mercury is still retrograde (how foggy was this one??) but now it's leaving Pisces and going into Aquarius we are slowly becoming clear minded again. We must however be careful not to rush or force anything, especially surrounding important communications and travel plans. In fact, don't try to force anything  at all that isn't flowing easily. Watery Aquarius reminds us to give to allowance, to go with the flow rather than make a futile attempt to control the oceans.
This full moon is even more perfect than usual for enhancing our personal magic, be it in the form of ritual, poetry, creating intuitively, dancing, participating in healing or energy work, working in intuitive ways or on our own spiritual development.
Its also a time to honour our sensitivity, be gentle with ourselves lest our nerves become on edge in jarring situations, like nails down a chalkboard. We need to gently tune in, go within to ask ourselves what we need with honesty, trusting our inner knowing.
It's a rare time where dreams and practicality can work if we don't allow Virgo to go dark side into uber perfectionism and criticism.
Questions to ask ourselves on this full moon:
What do I really want?
Am I daring to dream enough about my future?
Will I carve out the time for any necessary changes? If not, why?
Be very honest with yourself, clearly witnessing any fear based "yeah buts…" that may come up.
Which practical baby steps can I action right now to bring me closer to my dreams and desires?
Am I being too much of a perfectionist and going in to overwhelm?
Am I finding fault with myself and others unfairly?
Am I meditating enough and getting into nature?  
What am I already grateful for?
How can I be of service to others?
In the next few days before full moon you may suddenly want space, freedom, independence… but this is partly the influence of Venus too… so no knee-jerk reactions, just observe your feelings in your closest relationships and just let them pass before you make any big decisions.
Other aspects of Virgo are efficiency  and cleansing… Virgo prompts us to get everything running like clockwork and we will feel the urge to cleanse and declutter our inner and outer world, our homes, our auric field, chakras, our friends lists – but don't go too crazy!
If you need some help with your energetic spring clean, I can help you with a distant house cleanse, chakra balance and cleanse or even the full monty Clean Slate package of distant cleansing of home and self. Take a look at what resonates…
If you are in the UK on Monday 9th, I am holding a Full Moon Goddess Gathering in the yurt at the magical setting of the Nest in Wareside Hertfordshire SG12 at 7.30pm.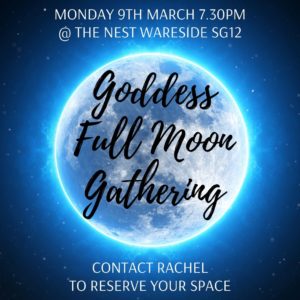 Join me and Kim Taylor in this gathering of women in the beautiful tranquil surroundings of The Nest, Wareside at full moon. This is a space to feel safe, empowered and supported, a place to share our thoughts and support each other with our wisdom. Bring your drums as we will also share a group healing of Reiki and Eir energy, working with moon goddess energy and sound, (and of course there will be tea and Kim's amazing vegan cake!) We can't wait to share this full moon empowering energy with you! Contact me to reserve your place in advance. Exchange will be £15 payable on the evening.
If you want to harness and honour this beautiful full moon with some simple energy work here's my downloadable easy to follow Full Moon Rituals manual…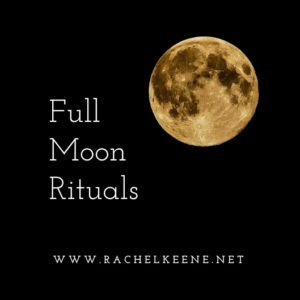 Until next time
Bright Blessings
Rachel x x