Tonight (16th) we have a full moon in Capricorn and a partial Lunar Eclipse.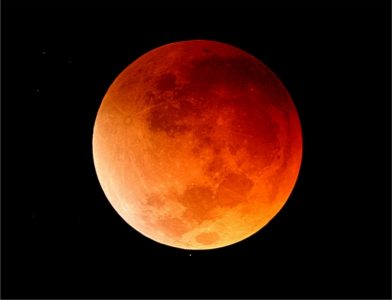 The full Moon will pass through the shadow of Earth, plunging 65% of the lunar disk into darkness.
The eclipse begins at approximately 20:00 UT, reaching maximum coverage an hour and a half later, visible in Africa and the Middle East, with some visibility in South America, Europe, Asia and Australia as well. 
North Americans will see none of the eclipse–only a normally bright full Moon. Check NASA's visibility map online to find out if you are in the eclipse zone. 
According to our ancestors, July's full Moon is also known as the "Thunder Moon," after the storms of northern hemisphere summer. 
What to expect from this alignment and how to maximise the benefits:
Moon in Capricorn is always consistent and brings us maturity despite any fear we may be experiencing. Which is helpful as old lessons surface now. Reality sets in, bringing us either to a realisation or a crisis to force us to clear the way ahead.
It is impossible to lie to ourselves this full moon with the eclipse energy thrown in. We will be compelled to look honestly at what we need to release and feel the urge to purge more than usual.  Today and tonight we are living consciously and mindfully whether we usually do or not, bringing everything under the scrutiny of "Does this serve me well?" 
Its really OK to feel shaky as we step out of old stories we've told ourselves, old narratives that served us at the time, maybe even in order to survive a time of hard challenge. This eclipse is a wake up call and a gift. 
Do we need to release ourselves from a job, a person, situation or old feelings?
We state clearly now:
"May I release these with forgiveness for myself and all involved. I did the best I could with what I knew at the time."
It is an intense full moon so best to leave anything more complex a ritual  (if you usually do more) until tomorrow when the energy has calmed a little. 
Tonight is time for contemplation and rest. 
We can reflect upon our gratitude for wisdom learned and those who taught or inspired us. Even ask ourselves: 
"What of this wisdom can I pass on? What form will it take?"
If you wish to amplify some self care on this full moon I do have a few appointments available tonight for distant energy work (even while you sleep) – feel free to book yourself in. 
Full Moon Blessings
Rachel xx