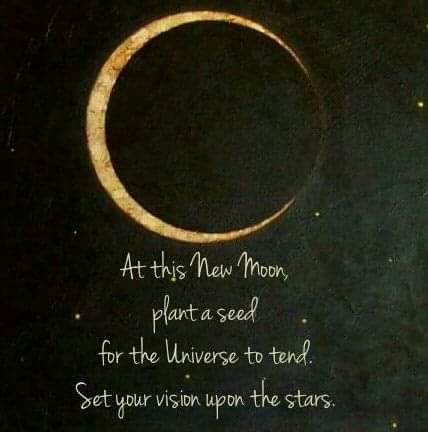 April 30th
New Moon in Taurus
21:28 UT/GMT
We have a rare and powerful event! This new moon is known as a Black Moon – a second new moon to occur within a calendar month. When the new moon rises on April 30, it will end a month that began with a new moon on April 1.
Creativity abounds on this day, so do take advantage of this power surge of beauty, allowing it to flow through you in any way you feel. Creative power comes in many forms, so just go with the flow and create something joyful and beautiful.
In addition, we also have a partial solar eclipse which means for some, a portion of the Black Moon will be visible when it partially eclipses the sun on Saturday. The partial solar eclipse can be spotted from southern South America, parts of Antarctica, and parts of the Pacific and Atlantic Oceans. According to timeanddate.com, this week's partial eclipse will first be visible at 7:45 p.m. UK time and will hit its peak a couple of hours later, before ending at 11:37 p.m. UK time.
These times are handy for us elsewhere in the world who won't see it but can time our meditations to harness that power!
What does this rare alignment mean and what we can do with this window of energetic opportunity?
Love, kindness, gratitude, must inform everything we do.
What is beauty to you? Create something, anything that represents soulful beauty.
Being fearless and trying to practice that, (even if it does not come naturally) is key. On a global scale, things seem scary. When we think of destruction, we may be fearful, but sometimes things have to be undone in what may seem a  chaotic manner at the time in order to build something stronger and unmoveable for the future, combining the lessons of experience and a new, kinder and compassionate perspective.
My guides gave me these words:
"As the leaves fall in Autumn, the roots are glad of their falling down. The surrounding earth is fed until spring, bringing forth new life."
Hold the vision of unity in the world – This is a rare day of opportunity for us to feel very connected, grounded and wanting the best for humanity. This is a perfect time to sit quietly for even just a few moments, holding a vision of how the world could be. Even if you don't meditate, this is enough to help raise our collective vibration to focus upon peace and compassion for all living things.
Try it out, our thoughts and wishes are powerful manifesting tools. All meaningful change starts with us as individuals.
Until next time… Love and blessings
Rachel xxx