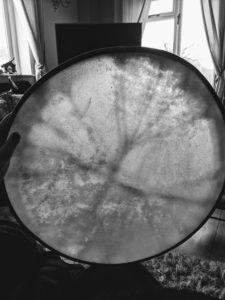 I've been waiting for a while to have a 20 inch thunder drum like my beloved Mr F has. Acquiring drums from the magical Kai, maker of amazing drum beings is a little addictive but I exercised restraint (for a while) until guides showed me it's time for more boom!
So, waiting patiently for my boom to arrive. I was shown cedar medicine and smudge in my meditation this morning.
Then an hour later…surprise! My drum arrived… with a gift of cedar smudge too.
I just feel such ancestral energy with this drum. I smudged, bonded with it and drummed … Straight away I was inside a cairn and could feel so many ancestors drawing close and such a powerful sense of complete safety. I don't think I've ever felt so safe and protected (and I always do, so that's really something!)
Guides prompted me afterwards to take photos of the drum. Never done that before with a new drum, so me being me, asked them, "but why?"
Got back a simple… "you'll see the faces" well…
Just a few! Among them, animal and bird faces too 🤯 This is a very special drum, just had to share this. I'm having trouble putting the drum down as I'm supposed to be doing mundane very earthly tasks today…😊
Life is about to get even more interesting!
This is a 20 inch beech frame goat skin drum. The goats have a lovely life, no slaughter.
If you'd like a drum like this I have a smaller one for sale, or you can commission one from my friend Kai, just contact me for details…