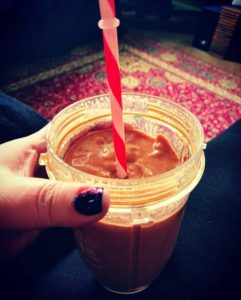 My fave winter health boosting smoothie recipe – added bonus – its delicious! Packed full of immune system boosting and arthritis pain killer natural ingredients and mood boosters.
I use a Nutri Ninja blender – any similar powerful blender e.g. NutriBullet will do.
Use the tall cup on Ultra Blend mode, you can keep any extra in the fridge for a day:
1 handful frozen strawberries
1 handful unsalted cashews
1 handful sunflower or pumpkin seeds
1 handful rolled oats
1 teaspoon ginger(frozen or fresh, powder is ok)
1 teaspoon cinnamon
1 teaspoon turmeric
1 teaspoon moringa leaf powder
1 teaspoon runny honey of your choice
1 dessert spoon raw cacao powder
2 dessert spoons 100% organic aloe vera juice (I use Fushi)
1/4 of an unwaxed lemon including zest
Top up to fill line with light carton type coconut milk and cashew / almond milk  or water
Blitz until you see no bits – enjoy!
(c) Rachel Fowler-Keene 2017