14th September – London 05:32am
14th September – Sydney 14:32pm
13th September –         L.A 21:32pm
This full moon is a Wishing Moon, perfect for manifesting…
It has some big questions for us too: 
This moon is all about balance in all things and has some questions for us to answer honestly without flinching: 
Have you given away your power without realising?
Its important to forgive yourself for doing so unintentionally or unknowingly
Have you used your power to manipulate or control others?
It is never too late to acknowledge where that behaviour came from within you, make amends and apologise.
Is the daily duty list outweighing the things that you want to do to maintain your inner peace and creativity?
Creatively you may feel some frustration – so be it in work or leisure, acknowledge it, but please do not go down the rabbit hole of comparing yourself with others!
Emotional much?
Pisces is quite a dreamy energy, so we will all be feeling a certain way about emotional issues or triggers, we will be emotionally in tune more with our intuition.
Passions will be running high!
Ooh la la! Yes, the sexy kind and/or passion for what you do or passion in finding your purpose in life.
With this full moon energy, don't be surprised if you find some things coming to a head this weekend, with truths being spoken – and heard.
Is your perspective balanced?
It is important to try to see others point of view. Even if that other is being a giant pain in the rear, please try hard to take the higher perspective. I say this for your sake, not theirs!
Can you forgive?
The full moon in any month is a good time to release and forgive. Again, for your sake.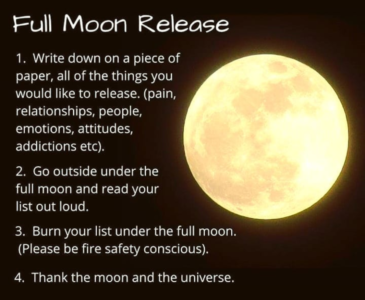 Have you been struggling to deal with a spiritual awakening?
You may find a shift in awareness that makes it all seem a little clearer or makes it a little easier on you energy wise around this full moon. Maybe it is already happening in the build up?
It is a great time to be seeking inspiration and guidance in our spiritual practices, so keep things simple, get out into nature, get really still and quiet for a few minutes wherever you are and just see how you feel.
Higher awareness is yours if you listen. 
How I can help:
Use this free Zen Mindfulness meditation tool to be here, now. Feel present and clearer just by listening whenever you need to. This practice is thousands of years old and it works. 
I'm on hand if you wish to book yourself in for any distant healing or cleansing work to help you make the most of this full moon energy –
I have space tonight (Wednesday), Thursday and Sunday.
However you choose to harness this full moon energy, more power to you.
Until next time…
Brightest Blessings