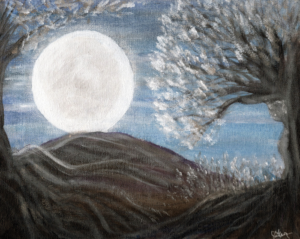 This full moon in Aries is all about passion and power!
Prepare for a little more full moon madness from others than usual, and make time for some self care, de-stressing and mind your words and reactions so that you don't become one of them! We need to think before we speak, and even more so before we act. Emotions, especially deep seated ones could be all over the place. You could find yourself in the midst of outbursts and conflicts you never saw coming.  Do your best to stay grounded and mindful.
The big picture will be important and at the forefront this full moon. What needs to change will feel like it needs to happen yesterday, but pace yourself.  You may feel a sense of urgency and determination to do whatever it takes to see that your long-held desires are fulfilled. Weigh your decisions carefully!
As mentioned, power is a theme here. Globally, we will see more heated  power struggles arising. This is also a time to harness intentionally taking back of any power you may have unintentionally given away to a person or situation outside your control. Here's a simple and powerful way to call your power back to you. 
Remember, it is safe to be powerful in many ways. One of the ways that makes use of power in a nurturing way is doing more of what lights us up. What are you passionate about?
Appearance may suddenly be bothering you out of the blue – try to love yourself as you are and resist the urge to be self critical as this will pass. It is temporary. Do speak to yourself kindly and treat yourself to do something that makes you feel nourished at soul level.
Impulsiveness may be a problem if you allow it to be… no big decisions without careful and grounded meditation on those issues.
Planning new projects is divinely guided on this full moon! This Aries motivational energy is perfect to light a fire under inspirational ideas and turn them into reality. Your vision can be made real, harness this day!
If you feel like your sex life is in need of some ooh la la… this is the day for it! Any sexy plans or encounters will be amplified with amazing energy!
Aries is all about positive self-affirming assertiveness – but you'll do well to avoid unnecessary drama at the moment, diffuse and dampen any fiery moments that arise before you burn any bridges without meaning to. Take a breath and ask your guides and spirit team to give you the right words to assert yourself kindly.
Some questions to meditate upon this full moon:
Are there any toxic patterns and behaviours in my life?
What lights me up? How can I do more of this?
What am I passionate about?
How can I make my dreams happen? Show me one step I can take today, no matter how small.
What can I contribute and manifest to make a difference for the greater good in the world?
Where do I need to take back my power? Who and what do I need to stand up to?
Where do I need to show myself more self-love?
Do I show myself gratitude and compassion? How can I do this more?
Enjoy this powerful, fiery energy and use it well!
Until next time, more power to you…
Rachel xx