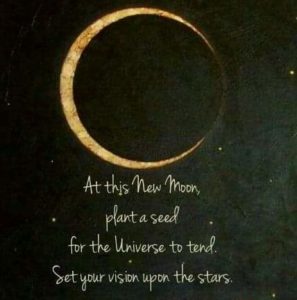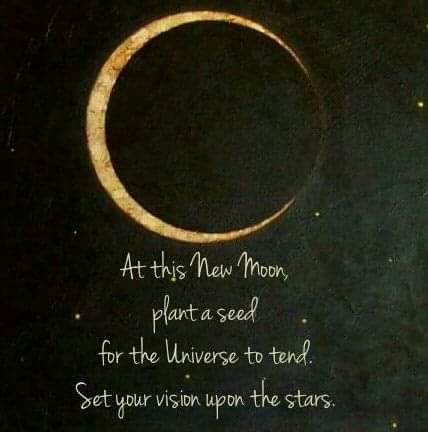 While New Moons are always a good time to set intentions, today we are being asked to set intentions from a new place of knowledge learned through adversity.
We have broken down the things we took for granted or assumed.
Now, at this new moon we are being asked to think about who we want to be moving forward. We need to think about who we are as spiritual beings experiencing the challenge of human existence and be unafraid to confront ourselves. Exploring the shadows in who we are is pure honesty. Then we can know and do what we need to in order to get closer to being that authentic real person going forward.
Today provides motivation that will inspire and fuel us to tackle any challenging energies, and tasks that have been put off and need to be completed. You may also notice a sudden burst of confidence and clarity, allowing difficult decisions to be made more easily than of late.
This New Moon is a grounding influence and a good time to reconnect with the Earth, our ancestors, and our roots.
Commit to dropping the BS, strip away the inauthentic behaviours and you will be shown the real you, the one you might have buried deep under the needs of others or your own need for approval.
Take some time out in nature, maybe a walking meditation. Ask your guides, angels and ancestors to draw close, ask for their guidance, prompts and strength as you ask yourself honestly:
How have my priorities shifted in the past year of upheaval?
Is there real authenticity to how I choose to live now?
If not, how can I make the change?
What do I need to create, attract and speak into being?
What small step can I make right now to make it happen?
Capricorn goat energy is just what we need to climb this mountain right?
Think about how far you've had to climb in the past year, with the global cha-cha of lockdowns, rebuilding, setbacks, rebuilding again on top of our usual challenges too… You are stronger than you think, this is proven 100% fact, you are still here! A little stubbornness may actually work in your favour today as you ponder this but you may find yourself tempted to lock horns with people over issues that aren't really worth the energy. Choose wisely!
2020 was not a wasted year. It was a year to awaken, realign our core beliefs and values, to come to view things in a new way. Use all that you have learned and bless whatever magical seeds of intention you plant on this New Moon!
If you need some spiritual tools or support, I can help…
Until next time…