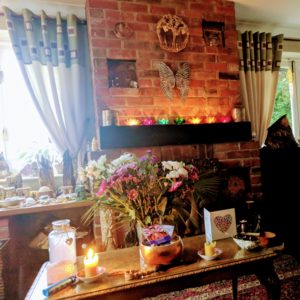 When we are living in challenging times, we NEED to make life way more magical every single day. Life is a series of nows strung together, moment stretching into moment. Time is a construct based on the movement of our planet around the sun. Do you want to live your life by it? Or do you wish to experience every single moment as it happens, truly being present for it?
Don't wait for your holidays, don't wait for Friday, don't wait for summer, or for someone else to make your life better. Life is happening. Right NOW.
Here are a few tiny things you can do right now and any time you choose.
Remember something that REALLY made you laugh.
Take a long hot shower or bath. Massage your scalp, take your time. It is surprisingly restorative.
Watch your favourite comedy series or movie that is guaranteed to make you laugh.
Candlelight, soft warm light lamps or fairy lights, no harsh light for an evening… or ten!
Watch the sunrise or the sunset, magic truly exists in those transitional moments.
Open a window and listen to nature. Eyes closed.
Open your windows and doors and sage your home or burn essential oils in a diffuser.
Drum, sing or clap your hands loudly – it raises the vibrational energy in you and your home.
Create playlists for specific moods. One for powering up your energy, one for focus, for sleep… You can even create your life soundtrack! Listening to music with solfeggio frequencies can flip your brainwaves into more positive states too – lots of free videos out there.
Listen to guided meditations to improve your intuition or mood. I have some with binaural beats in my Meditation Store too.
If you have an oracle deck, or decks, put the cards in a bowl and ask what you need to know then choose a card intuitively every day. You may surprise yourself!
Walking in woodland or open spaces.
Bring greenery or flowers into your home.
Start a gratitude jar or journal. At the end of each month or year read them out loud. Being grateful is a magnet for magic. The more grateful you are the more you find you have to be grateful for. It doesn't have to be anything huge either, it could just be that you're grateful to be alive!
Do you have more tips to add to the list?
Always here for you with the spiritual tools and healing and cleansings you need 
More power to you…
Rachel xxx