To celebrate and honour sacred days, I like to make a loose incense blend of herbs, flowers and woods for ceremony.
Here's my own summer solstice incense blend.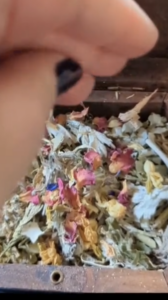 Here's the mix, use as much or as little as you prefer:

Mugwort
Valerian leaf and flowers
White Willow leaf and/or bark
Cedar leaf
Copal
Frankincense oil
Pansy petals
Rose petals
Garden sage
Thyme leaves and flowers
Lavender flowers and seeds

If you don't have some to hand already dried, pick your herbs and flowers a week or two in advance. Fresh will still be OK to burn but will produce much more smoke and crackle and pop!
Looking for some tips on holding ceremony with the cycles of the moon? Download my Moon Rituals pdf guide here 
See my full list of courses, treatments and spiritual well-being empowerment services here