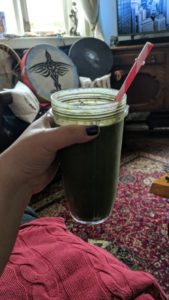 Very green but tastes so good and gives me so much energy. Your body will thank you for it! You can find most ingredients in supermarkets or online.
Recipe for a tall Nutri Ninja or bullet blender cup.
Dessert spoon used to measure each ingredient. All ingredients are organic.
2 dessert spoons raw cashews
Gel scraped from inside one small Aloe Vera plant leaf / 1 capful100% pure Aloe Vera juice
1 heaped dessert spoon super greens powder (chlorella, spirulina, wheatgrass, barley grass, kale, spinach)
1 dessert spoon chia seeds
1 dessert spoon raw cacao
Half a spoon turmeric powder
Half a spoon cinnamon powder
Half a spoon agave nectar
4 slices fresh mango
Half a spoon fresh ginger root
Large handful of cubed frozen mixed fruit:
Kiwi, papaya, pineapple, passion fruit
Top up to fill line with water and fresh coconut milk (not canned)
Blend on ultra mode for approx 1 minute.