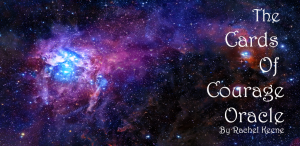 – Available for Android devices –

The Cards of Courage Oracle and meditation app on Android gives you a simple and clear message of strength and support whenever you may need one to boost and strengthen you, especially in times of change and challenge.
I loved every moment of co-creating the artwork with Spirit as my guide, and channelling the messages, the object being to have them as simple as can be, easy to understand and immediate in their impact. Some decks need additional booklets to explain – this doesn't. The Cards of Courage Oracle is designed to inspire and motivate you to take action in a very direct simple way.
These cards encourage you to get out of your own way – to become the best you possible by perceiving every challenge to be an an opportunity to be courageous and make progress in the right choices and direction. You have within you the power and free will to make meaningful change in your life, improving your circumstances and transforming your pain into purpose.
You are encouraged to take heed of each card's call to action to help you move forward courageously and fearlessly in life no matter what.
You may use these cards and meditations as often as you wish.
You can select one, two or three cards depending on how much advice or validation you feel you need at any given moment.
Before you select your card, sit comfortably for a moment, eyes closed, become aware of your breathing, feel the rhythm of your natural breath. Take a few deeper breaths. Ask your guides, loved ones and ancestors to draw close to you if you wish.
You can ask a question and then draw a card, or just be open to receiving whatever message your higher power, loved ones and guides wish to give you as you select a card.
Trust that the message you need is about to appear.
Key features:
A complete deck of 64 cards
3 types of reading (1, 2 or 3 card readings)
Access to meditations – something for everyone to suit the time you have to spend – from 3 minutes to half an hour, music or spoken word guided meditations are a great way to feel calmer, and take care of your spiritual well-being.